Mumbai, the city that never sleeps, also boasts a vibrant coastline that offers the perfect setting for a range of unforgettable experiences. Among these, yacht rentals stand out as the pinnacle of luxury, from dreamy pre-wedding photoshoots to exhilarating yacht parties. In this blog, we delve into the world of yachts in Mumbai, where you can sail into your dreams.
Capturing Love on the High Seas: Pre-Wedding Photoshoots in Mumbai!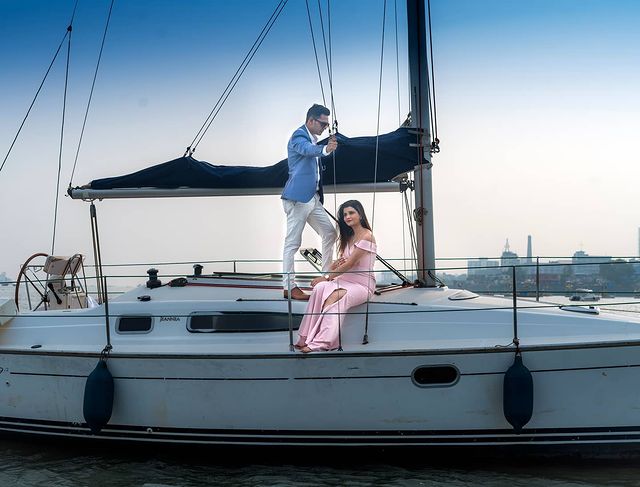 For couples looking to capture their love story in a unique and extravagant manner, a pre-wedding photoshoot on a yacht in Mumbai is the answer. Imagine you and your partner framed against the stunning Mumbai skyline as the sun dips below the horizon. With the city's glittering lights as your backdrop, pre-wedding photographers in Mumbai work their magic to create memories that will last a lifetime.
Party Like Never Before: Yacht Parties in Mumbai
Yacht parties in Mumbai are the epitome of glitz and glamour. Whether you're celebrating a special occasion or simply want to revel in the sea breeze, a yacht party offers an unforgettable experience. Sip on premium cocktails, and enjoy gourmet cuisine as you sail along Mumbai's beautiful coastline. The options are endless, from intimate gatherings on private yachts to large bachelorette parties on a party yacht.
Accretion Aviation Yachts: Yacht Rentals in Mumbai.
Looking to charter a yacht for your personal use? Mumbai offers a range of yacht rentals, from private sail yachts to sleek motor yachts. Explore the Arabian Sea, snorkel, or simply bask in the sun on your private yacht charter in Mumbai. The city's coastline is your playground, and the yacht is your gateway to adventure and relaxation.
Setting Sail in Style: Yacht Booking in Mumbai
Don't miss your chance to experience the opulence of a yacht in Mumbai. Whether it's a pre-wedding photoshoot to capture your love story, a lively bachelorette party, or a tranquil cruise on a private yacht, Mumbai's yacht scene has it all. With the ease of online yacht booking in Mumbai, your dream maritime adventure is just a click away.
In conclusion, Mumbai's coastline is not just a sight to behold; it's an invitation to explore the lap of luxury. With an array of yacht experiences to choose from, including pre-wedding photoshoots, yacht parties, and private charters, you can turn your fantasies into reality. Book your yacht adventure now and set sail into a world of elegance and extravagance along Mumbai's breathtaking shoreline.
For more information visit www.accretionaviation.com or you can reach us directly on +91-9575340786