Shaily talks about her proposal evening she experienced on our beautiful yacht in Mumbai. Her beloved Jay wanted to give her a surprise proposal and we at Accretion Aviation helped him out and executed a romantic evening for them. About that evening Shaily said,
"It was the most beautiful evening of my life. Jay took me out for a date and the venue was a total surprise for me. We reached at Gateway of India and I thought may be our date is in one of the 5 star Hotels. But no! It was a beautiful, a balloon decorated and a very luxurious YACHT!"
Yes you heard right. We organised a beautiful evening on a Yacht. The couple went on a date on a yacht. But the story does not end here. What Shaily experienced in that Yacht? Want to know? Then read what she had to say.
"As I stepped onto the yacht, there was a beautifully decorated cabin with love balloons and my favourite chocolates were arranged in the shape of heart. The floor was fully covered by rose petals. Jay covered my eyes with a red ribbon and took me to the deck area. As I opened my eyes what did I see! It was a small boat facing us inside which jay's friends were standing by holding banners which read 'WILL YOU MARRY ME!'I was shocked. My eyes were filled with tears of joy. I was waiting for this day but didn't know that it will be an out of the box surprise."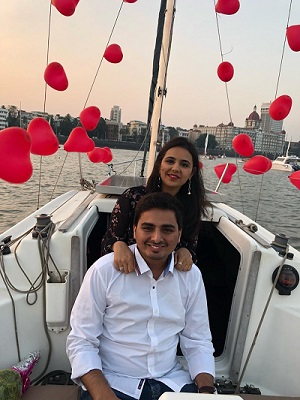 Sounds Amazing! The friends then joined the couple on the yacht and all partied together with champagne and music.
Jay always said that it could never be happen without the help of Accretion. We flawlessly executed the proposal that Jay had planned meticulously. He says "I will always recommend Accretion Aviation for booking Yacht rides."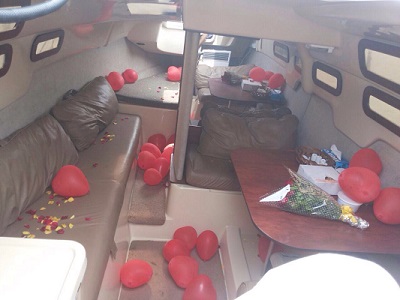 So what are you waiting for? You can also plan a grand proposal for your loved one like Jay.
How to book a yacht in Mumbai ?
It is very simple to book a yacht in mumbai. No need to go to any port all you have to do is call on +91-9575340786 or visit: www.accretionaviation.com and you can book a yacht from a comfort of your own couch.