Day by day, people's daily routine is becoming so hectic. And in the city like Mumbai, people are very busy in their job schedule. In this busyness, everyone needs a break from the crowded life.
Usually people of Mumbai visits Gateway of India to feel relax by seeing the sunset at sea shore. But, can you think a step ahead of it? What if you are floating in the sea and see a grasping view of sunset? Can you imagine this incredible beauty? But now, question is how we can float in the sea to grasp the beauty of the sun. Here is the answer. 'Accretion Aviation' will make you float in the sea by their luxurious services of YACHT! Yes you heard right. Yacht rides are becoming very popular among the people of Mumbai. If you want to celebrate a birth day party or anniversary, or you want to plan a bachelorette party for your bride to be or you want to spend some quality time with your beloved person, or want to spend some time just for fun purpose, Accretion Aviation presents you the services of Yacht Rides. One of our clients Sudhir, shares his experience of Yacht. Sudhir hired the Yacht to celebrate the birth day party of his son Rudra. Sudhir said,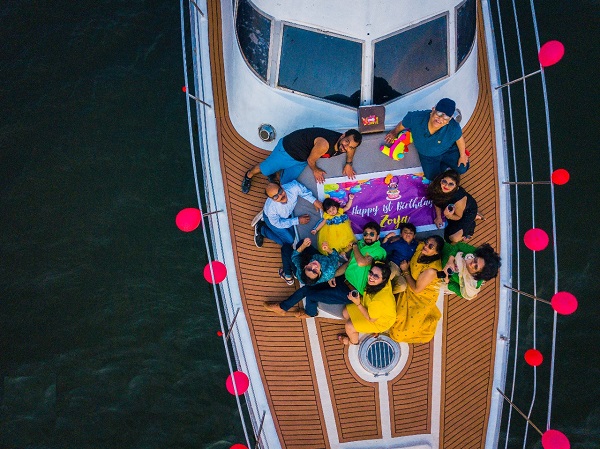 "My son was going to be 8 years old. I wanted to plan something unique, a very special party for him. I found out about the party on the Yacht. It sounds me very unique and very amazing. So I contacted Accretion Aviation for the same. They arranged a stunning birthday party on the Yacht. As we reached Gate Way of India, a beautiful, divine, amazingly decorated Yacht was waiting for us. As we stepped onto the Yacht, the full cabin area and deck area was decorated by balloons. Rudra was very surprised and happy by seeing all those things. There was a music system on which we played Rudra's favourite music. On the deck area, cake cutting ceremony was arranged. My boy cuts the cake and then with his friends he dances on the floor. Then everyone enjoyed with a delicious dinner. It was an incredible experience for my birthday boy that he enjoyed his special day in the middle of the sea by seeing the graceful beauty of the ocean."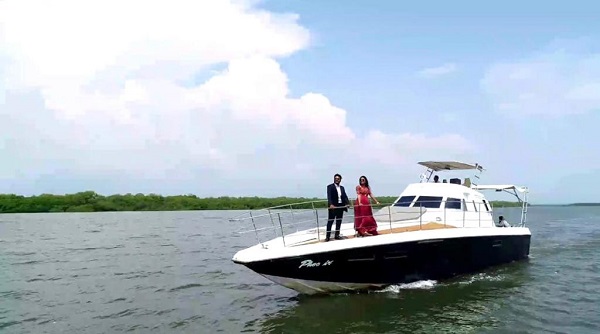 In the rush of city, it's very difficult to find a place away from the crowd. Plan a different kind of party on Yacht in Mumbai which provides you a unique experience.
Accretion provides Yacht from capacity of 4 to 60 people with the variety of Sail Yacht, Catamaran Yacht, Sea Ray 300, Fair liner Yacht, Princess 42 Yacht, Blue Diamond Yacht, Foxy Lady, Luxury Cruise 40, Wrinker and many more.  
So don't wait, plan your ride for your beloved person and organise a great party.
How to book a yacht in Mumbai ?
It is very simple to book a yacht in mumbai. No need to go to any port all you have to do is call on +91-9575340786 or visit: www.accretionaviation.com and you can book a yacht from a comfort of your own couch.