Mrunal is going to be bride soon. As before her wedding, she went out to Goa with her friends. Her friends wanted to give her a grand bachelorette party. So we at Accretion Aviation helped them out and planned a marvellous bachelorette party for her in Goa on a Yacht. About that evening Mrunal shares,
"I was in a rush of my wedding shopping. I wanted to enjoy with my friends before my marriage. We planned a trip to Goa. Me and my best friends went out to Goa and at an evening my friends took me to Panjim. It was a beautiful evening and an incredible sunset. Suddenly Riya comes to me and ask to come with her. I didn't know what's going on. I just followed Riya wherever she took me. Suddenly I saw a beautiful, magnificent and a very pretty looking Yacht."
Surprised? We planned her bachelorette party on a grand Yacht. Can you imagine the happiness of Mrunal when she was lost in the beauty of Sun and got the amazing surprise of enjoying the whole evening on a Yacht! Now, what next? Want to know? Than just go ahead,
"As I stepped in on the Yacht, I saw the beautiful deck area. Nature's beauty was incredible from the deck. The shadow of mild red Sun touches the surface of seawater which was an armistice feeling. I lost in the ceasefire of sunset. My other friends were waiting for me on the Yacht. I was totally surprised; I never knew that I am going to celebrate my bachelorette party at such a divine location on a Yacht."
We arranged a DJ party for them followed by the red wine and Champaign. So many games were arranged for them on the Yacht and a delicious dinner was served afterwards. Mrunal was very happy and delight, she said,
"Accretion made my special day an incredible experience and a life time memory".
We had a word with Mrunals's friends, they shares.
"Accretion Aviation is now our all-time favourite choice for any kind of Yacht booking; they made everything very easy for us so that we can enjoy without any worries. Thank you Accretion to provide us the best services."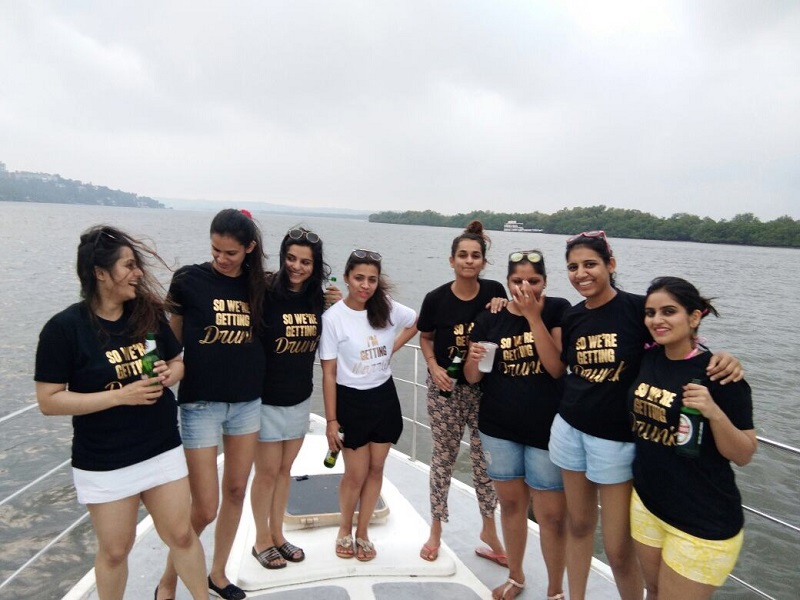 So don't wait, plan the bachelorette party for your Bride To Be on a luxurious Yacht like Rachna, Meghal and Riya! Rent the yacht in Goa for Couples, Groups and Friends at unbelievable affordable price.
For Bookings Contact:
Website: www.accretionaviation.com
Call: +91-9575340786
Email: [email protected]
By: Anubhuti Jinsiwale